December 12th, 2022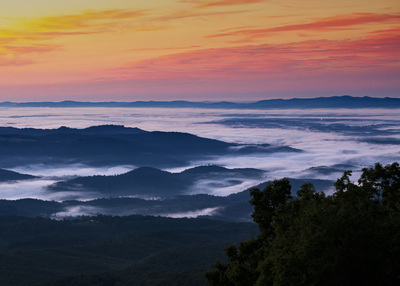 I set up my canopy in my daughter's front yard during the local Apple Festival this fall. I had a set of sunrise pictures that I had taken in the summer from 'The Bump' overlook on the Blue Ridge Parkway, not too far from town. The day that I decided to venture up there turned out to be perfect for capturing some beautiful pre-dawn and sunrise shots, with low-lying clouds visible in the valleys below. A visitor was browsing at my collection and asked "What ocean is this?" while pointing to this image, which was not labelled. It was in fact titled "An Ocean of Clouds", but she didn't know that. When I explained what she was actually looking at, she leaned in a bit closer and uttered "Oh my goodness!".

Turns out, that was the first time that I saw the scene as she had seen it. Knowing where I had taken the picture and the relationship of the various visual components, I had never seen it as anything but low-lying clouds below my vantage point.
May 25th, 2021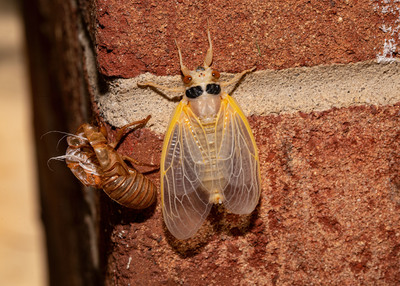 The group of 17-year periodic cicadas known as Brood X is making quite a noise in Wilkes County, NC. Literally. Our section of the county is particularly noisy, due to tens of thousands of the creatures in every wooded acre. Our house has dense woodlands on two sides and is hilly. The sound echoes back from the hills and now that warm weather has arrived, it almost defies comprehension that so many of the bugs could be in those trees. But, the photo shows a nymph that has just molted on the pillar of our carport. Exoskeletons and live bugs can be seen everywhere. I sell through several stock photo agencies and my Brood IX photos from last year, only two I saw then, began selling regularly in early April. Since then, the Brood IX and X photos, including a closeup molting sequence, have sold 18 times. Imagine my surprise last year, as I read through my copy of Scientific American, to see a familiar cicada picture. Sure enough, my photo of a dead one had been used to illustrate an article on cicada wings. Just goes to show!
February 1st, 2021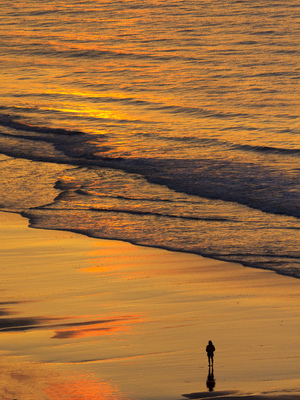 Is the person on the beach welcoming a new day, or contemplating the day just ending? A number of contextual clues would give us the answer: location, direction, season, and of course time of day. But, nothing else in the photo provides any of those clues. Even with one of the clues we still might not know. If the location is the US shoreline of the Gulf of Mexico, we would still need more information on location. If it's the west coast of Florida, then it's likely sunset. However, if it's the coast of Texas near Corpus Christi, then it is almost certainly sunrise.

In the end, does it really matter? Can't we construct our own storyline to suit how the picture makes us feel?
January 11th, 2021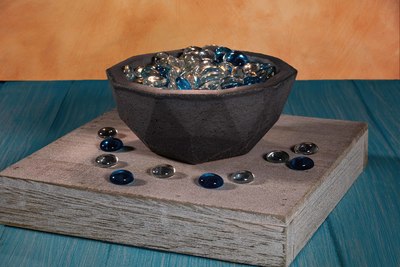 Well, the family seems to be clear of COVID-19 finally. My daughter has returned to her teaching job and the oldest grandson is back in school. My daughter bought me a nice geodesic bowl (pictured) that one of her high school friends (now an architect) sells on his Etsy site. She though it would make a nice prop for food and/or still life shots. With the COVID and winter weather upon us, I'm mostly doing tabletop shots in my basement studio. I was just gathering up items for a berry parfait setup, after completing my first row of the day. The January rowing challenge is burning 10,000 calories on the machine. So far, I'm on track to make the goal.
December 24th, 2020
Merry Christmas!

Due to cloud cover on the big night, I got out the night after the Great Conjunction and got a clear view of Jupiter and Saturn with just a small separation. And the moon was half-full, also. Got some good moon shots, but without a tracking base on my camera, the planets moved too fast to get a good exposure. I could clearly see 4 moons around Jupiter and could just make out the rings of Saturn through the viewfinder with my 150-500mm zoomed out to max. I do have a large telescope (8", 2000mm) with a camera adapter, but my tracking drive is broken right now. Besides, the tripod and base for it weighs about 50 pounds.

Finished the Concept2 100,000 meter Holiday Challenge with 101,743 meters rowed since Thanksgiving Day. Next challenge starts on New Year's Day.

Got my 3-photo series of roses uploaded here and to the stock sites that I supply.

Speaking of the New Year, I am currently offering a 15% discount on my products here through 1/4/2021. Use discount code RGVTPC at checkout.

Gearing up for more basement studio tabletop shots. With winter really descending on us tonight, it'll be cozy in the basement because the wood-burning furnace is adjacent to my studio area. High for Christmas Day is only supposed to be 29, with a low of 16 at night.
December 16th, 2020
After a week in quarantine in the same house with my COVID-positive daughter, my 18-month old grandson has now tested positive as well. He seems to be doing well, though. My son-in-law was negative, and my 4 1/2 year old grandson has shown no symptoms. We finished our quarantine here a few days ago and all are well, so far. Winter has finally arrived, complete with small icicles on the trees. After having the chimney cleaned, I now have the wood furnace fired up. It is in the room adjacent to my basement studio, so I don't have to work with a jacket on anymore. It really helps keep the winter electric bills in check, also. Sorry Duke Power.

Just completed a series with some American Beauty roses. Will upload shortly. Lots of ideas for still life art shots and some stock photo scenes.

Stay healthy!
December 8th, 2020
My daughter's COVID-19 test was positive. She's still only suffering from a sinus issue, but must quarantine for another week with no new symptoms before she can return to teaching. Several others at her school have tested positive or been placed in 14 day quarantine. My 4 year old grandson is also on extended quarantine. We're shifting Christmas family meal to the end of the month.

In the meantime, I got several more photos processed, printed, and matted today. Planning on setting up a tabletop session tomorrow with some stop motion, dropping fruit shots.
December 6th, 2020
Vision is SO much better now! Just finished a 5 km row on my indoor machine as part of the Concept2 Holiday Challenge. Only 80 km more before Christmas day. There are over 21,000 people participating worldwide, and proceeds based on distance of 100 km+ will go to charity. Completed another photowalk today, nice and sunny here in western NC. Also doing some studio tabletop work with an old milk bottle that I bought at the flea market where I sell my photos (framed, just matted, on a FAA face mask, or magnetized). I'm waiting on an indoor space to open up at a local antiques mall.

My daughter went to the doctor's for a sinus infection and they gave her a COVID-19 test. Then, they advised her that it would take as long as 7 days for the result. In the meantime, she and her husband and 2 boys have to quarantine. So, no work for them and no babysitting for my wife and I this week.
December 2nd, 2020
Had the YAG laser treatment on my left eye today. What a difference - everything is clear and sharp again. Still need readers for near vision, though. My right eye, treated 2 weeks ago, tested at 20/15 today. Will have the small black 'floaters' in the left eye for a few days, but no big deal. I'll be a bit less dependent on autofocus now. Took a photowalk on a small stretch of our property 2 days ago. Got about 3 good shots and ideas for a few more.

Saw my first flying squirrel 3 nights ago when it landed in our window-mounted bird feeder. Got a blurry iPhone pic through the window. It being dark outside, had to turn the flash on which created some reflections. Had never seen it there before. If it becomes a bit of a regular visitor, I'll set up my blind outside with a MIOPS trigger on the camera and some lights. We're into freezing temps here at night, so I'll monitor the situation from inside.

I started back on my rowing machine 2 days after my fall, and it seems to help the mobility. Taking the Concept2 Holiday Challenge to complete 100 km between Thanksgiving and Christmas Eve. Still below the daily average that I need, but should be able to catch up within about a week.

Keep shooting!
November 18th, 2020
I received word last night that a USNA company mate and classmate had passed away after taking a bad fall. I had known him since we first reported to Annapolis in the summer of 1971. I almost repeated his accident this morning, not 10 hours after getting the news. Coming down the stairs this morning, my foot slipped on the carpet and both feet went out from under me. I slid the final four steps to the first floor. Unfortunately, my left arm got caught between 2 posts and I almost dislocated my shoulder. Had my foot 'caught' instead of slipping, I would have taken a header onto the hardwood floor. Fortunately, I was able to walk away, although my shoulder won't be very useful for several days.

Rest in Peace Marine.